Table of Contents
General
Configuration Options
Spider Crawl Tab
Spider Extraction Tab
Spider Limits Tab
Spider Rendering Tab
Spider Advanced Tab
Spider Preferences Tab
Other Configuration Options
Tabs
Custom robots.txt
---
Configuration > Robots.txt > Custom
You can download, edit and test a site's robots.txt using the custom robots.txt feature which will override the live version on the site for the crawl. It will not update the live robots.txt on the site.
This feature allows you to add multiple robots.txt at subdomain level, test directives in the SEO Spider and view URLs which are blocked or allowed. The custom robots.txt uses the selected user-agent in the configuration.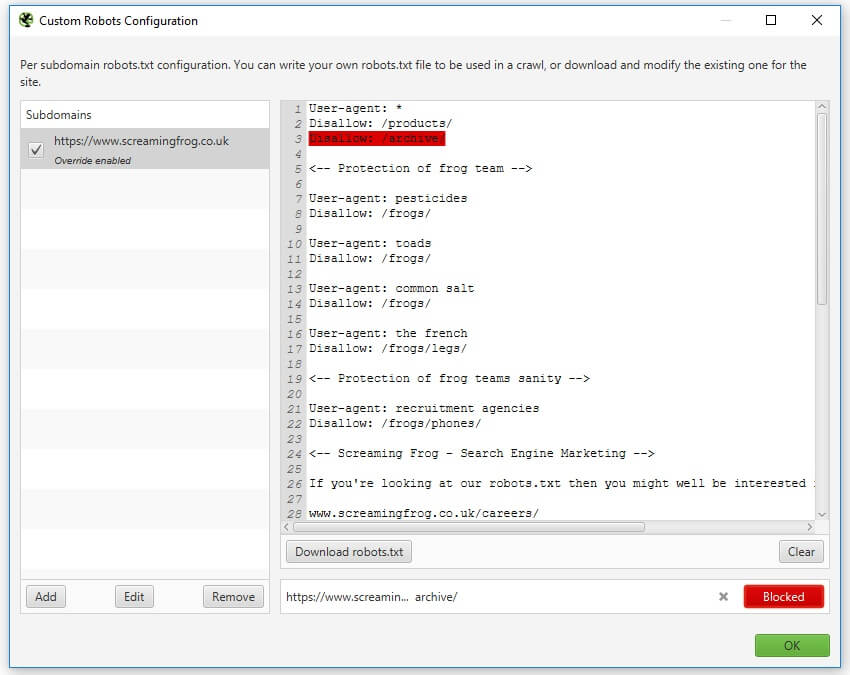 During a crawl you can filter blocked URLs based upon the custom robots.txt ('Response Codes > Blocked by robots.txt') and see the matching robots.txt directive line.

Please read our featured user guide using the SEO Spider as a robots.txt tester.
Please note – As mentioned above, the changes you make to the robots.txt within the SEO Spider, do not impact your live robots.txt uploaded to your server. You can however copy and paste these into the live version manually to update your live directives.
---
Back to top