Google Analytics integration
Table of Contents
General
Configuration Options
Spider Crawl Tab
Spider Extraction Tab
Spider Limits Tab
Spider Rendering Tab
Spider Advanced Tab
Spider Preferences Tab
Other Configuration Options
Tabs
Google Analytics integration
---
Configuration > API Access > Google Analytics
You can connect to the Google Analytics API and pull in data directly during a crawl. The SEO Spider can fetch user and session metrics, as well as goal conversions and ecommerce (transactions and revenue) data for landing pages, so you can view your top performing pages when performing a technical or content audit.
If you're running an Adwords campaign, you can also pull in impressions, clicks, cost and conversion data and the SEO Spider will match your destination URLs against the site crawl, too. You can also collect other metrics of interest, such as Adsense data (Ad impressions, clicks revenue etc), site speed or social activity and interactions.
To set this up, start the SEO Spider and go to 'Configuration > API Access > Google Analytics'.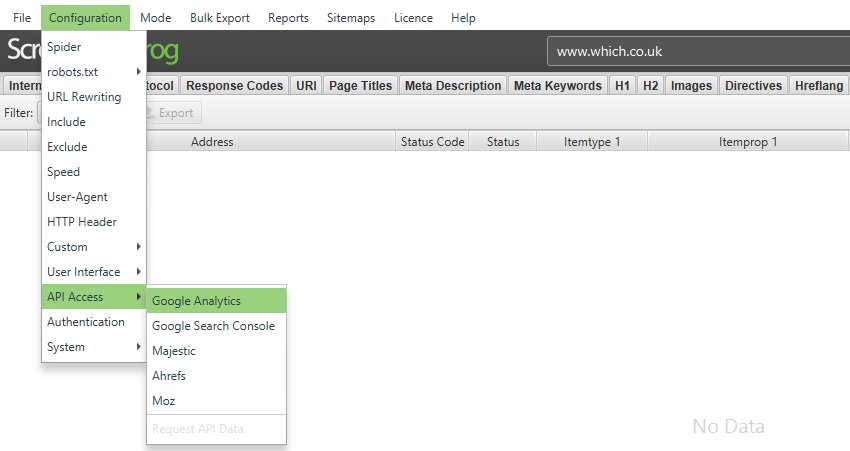 Then you just need to connect to a Google account (which has access to the Analytics account you wish to query) by granting the 'Screaming Frog SEO Spider' app permission to access your account to retrieve the data. Google APIs use the OAuth 2.0 protocol for authentication and authorisation. The SEO Spider will remember any Google accounts you authorise within the list, so you can 'connect' quickly upon starting the application each time.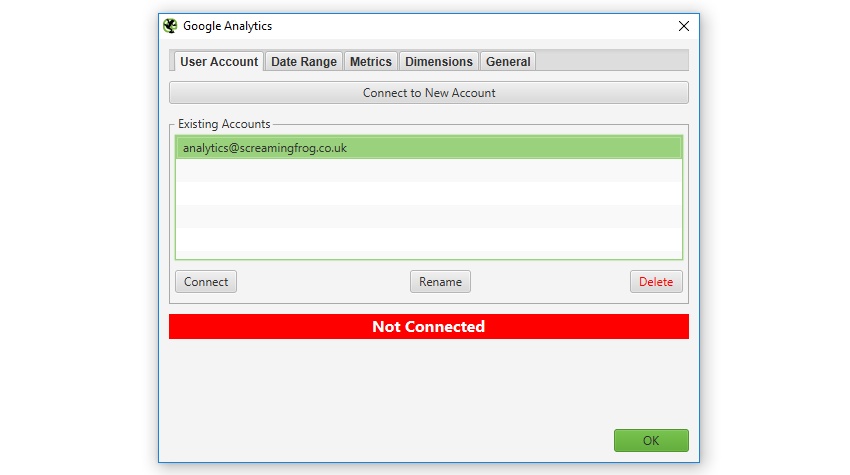 Once you have connected, you can choose the relevant Google Analytics account, property, view, segment and date range!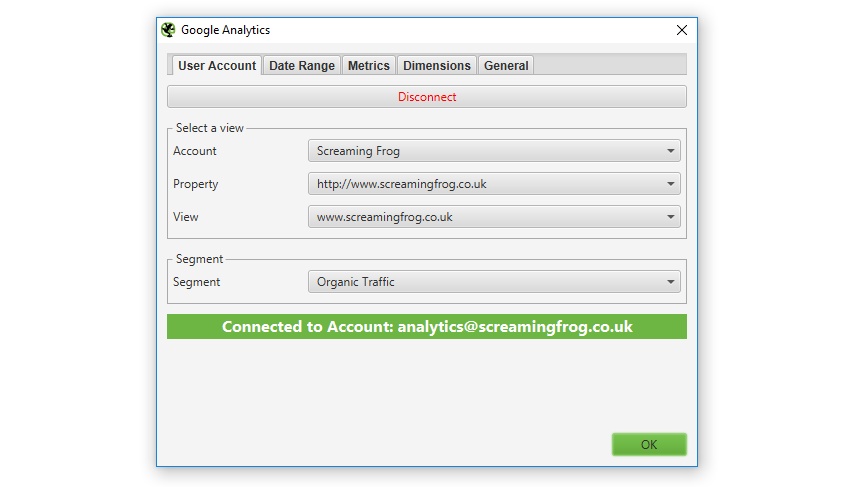 Then simply select the metrics that you wish to fetch! The SEO Spider currently allow you to select up to 30, which we might extend further. If you keep the number of metrics to 10 or below with a single dimension (as a rough guide), then it will generally be a single API query per 10k URLs, which makes it super quick –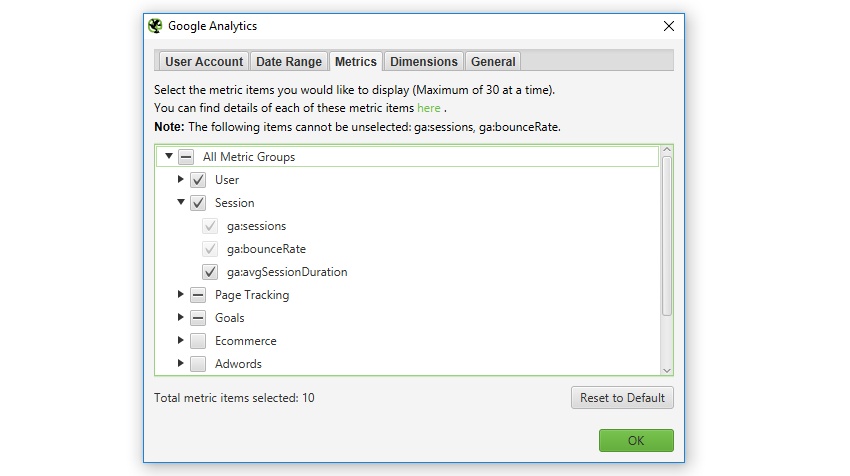 As default the SEO Spider collects the following 10 metrics –
Sessions
% New Sessions
New Users
Bounce Rate
Page Views Per Session
Avg Session Duration
Page Value
Goal Conversion Rate
Goal Completions All
Goal Value All
You can read more about the definition of each metric from Google.
You can also set the dimension of each individual metric against either page path and, or landing page which are quite different (and both useful depending on your scenario & objectives).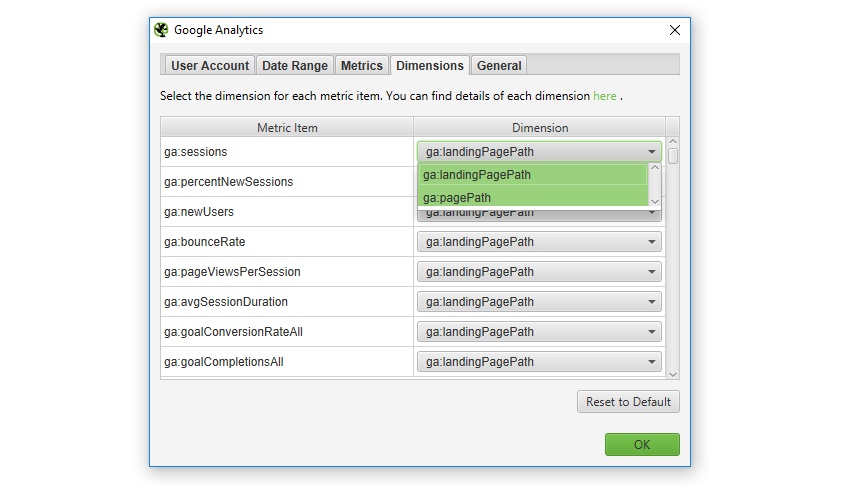 There are scenarios where URLs in Google Analytics might not match URLs in a crawl, so we cover these by matching trailing and non-trailing slash URLs and case sensitivity (upper and lowercase characters in URLs). Google doesn't pass the protocol (HTTP or HTTPS) via their API, so we also match this data automatically.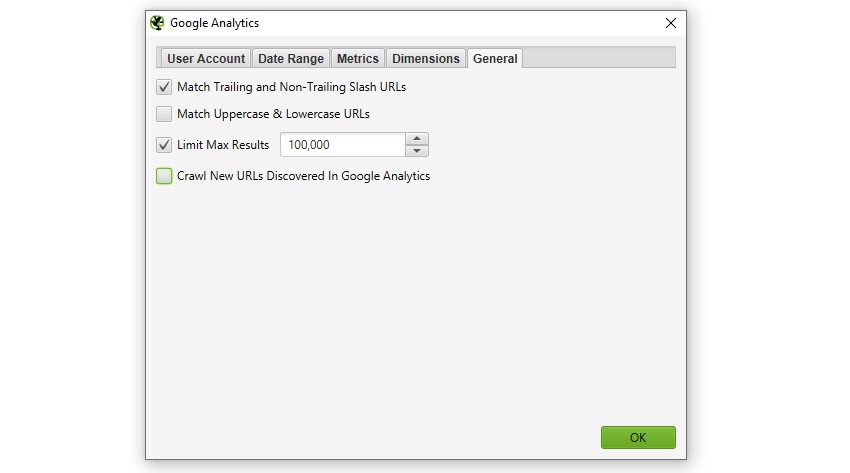 When selecting either of the above options, please note that data from Google Analytics is sorted by sessions, so matching is performed against the URL with the highest number of sessions. Data is not aggregated for those URLs.
Match Trailing and Non-Trailing Slash URLs – Allows both http://example.com/contact and http://example.com/contact/ to match either http://example.com/contact or http://example.com/contact/ from GA, whichever has the highest number of sessions.
Match Uppercase & Lowercase URLs – Allows http://example.com/contact.html, http://example.com/Contact.html and http://example.com/CONTACT.html to match the version of this URL from GA with the highest number of sessions.
If you have hundreds of thousands of URLs in GA, you can choose to limit the number of URLs to query, which is by default ordered by sessions to return the top performing page data.
The 'Crawl New URLs Discovered in Google Analytics' option means that any new URLs discovered in Google Analytics (that are not found via hyperlinks) will be crawled. If this option isn't enabled, then new URLs discovered via Google Analytics will only be available to view in the 'Orphan Pages' report. They won't be added to the crawl queue, viewable within the user interface and appear under the respective tabs and filters. Please see our guide on finding orphan pages.
When you hit 'start' to crawl, the Google Analytics data will then be fetched and display in respective columns within the 'Internal' and 'Analytics' tabs. There's a separate 'Analytics' progress bar in the top right and when this has reached 100%, crawl data will start appearing against URLs. The more URLs you query, the longer this process can take, but generally it's extremely quick.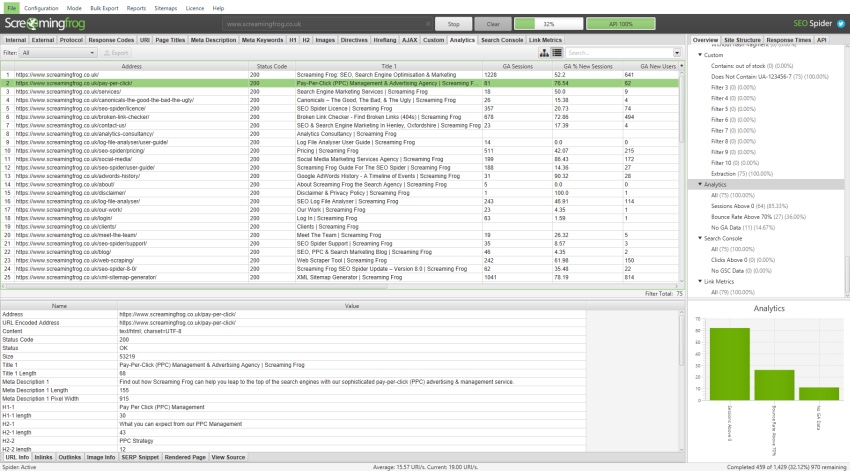 There are 5 filters currently under the 'Analytics' tab, which allow you to filter the Google Analytics data –
Sessions Above 0 – This simply means the URL in question has 1 or more sessions.
Bounce Rate Above 70% – This means the URL has a bounce rate over 70%, which you may wish to investigate. In some scenarios this is normal though!
No GA Data – This means that for the metrics and dimensions queried, the Google API didn't return any data for the URLs in the crawl. So the URLs either didn't receive any visits sessions, or perhaps the URLs in the crawl are just different to those in GA for some reason.
Non-Indexable with GA Data – This means the URL is non-indexable, but still has data from GA.
Orphan URLs – This means the URL was only discovered via GA, and was not found via an internal link during the crawl.
As an example for our own website, we can see there is 'no GA data' for blog category pages and a few old blog posts, as you might expect (the query was landing page, rather than page). Remember, you may see pages appear here which are 'noindex' or 'canonicalised', unless you have 'respect noindex' and 'respect canonicals' ticked in the advanced configuration tab.

If GA data does not get pulled into the SEO Spider as you expected, then analyse the URLs in GA under 'Behaviour > Site Content > All Pages' and 'Behaviour > Site Content > Landing Pages' depending on which dimension you choose in your query. The URLs here need to match those in the crawl, for the data to be matched accurately. If they don't match, then the SEO Spider won't be able to match up the data accurately.
We recommend checking your default Google Analytics view settings (such as 'default page') and filters which all impact how URLs are displayed and hence matched against a crawl. If you want URLs to match up, you can often make the required amends within Google Analytics.
Please note, Google APIs use the OAuth 2.0 protocol for authentication and authorisation, and the data provided via Google Analytics and other APIs is only accessible locally on your machine. We cannot view and do not store that data ourselves. Please see more in our FAQ.
---
Back to top