Google Search Console integration
Table of Contents
General
Configuration Options
Spider Crawl Tab
Spider Extraction Tab
Spider Limits Tab
Spider Rendering Tab
Spider Advanced Tab
Spider Preferences Tab
Other Configuration Options
Tabs
Google Search Console integration
---
Configuration > API Access > Google Search Console
You can connect to the Google Search Analytics API and pull in data directly during a crawl. The SEO Spider can fetch impressions, clicks, CTR and position metrics from Google Search Analytics, so you can view your top performing pages when performing a technical or content audit.
To set this up, start the SEO Spider and go to 'Configuration > API Access > Google Search Console'. Connecting to Google Search Console works in the same way as already detailed in our step by step Google Analytics integration guide.
You just need to connect to a Google account (which has access to the Search Console account you wish to query) by granting the 'Screaming Frog SEO Spider' app permission to access your account to retrieve the data. Google APIs use the OAuth 2.0 protocol for authentication and authorisation. The SEO Spider will remember any Google accounts you authorise within the list, so you can 'connect' quickly upon starting the application each time.
Once you have connected, you can choose the relevant website property, date range and dimensions!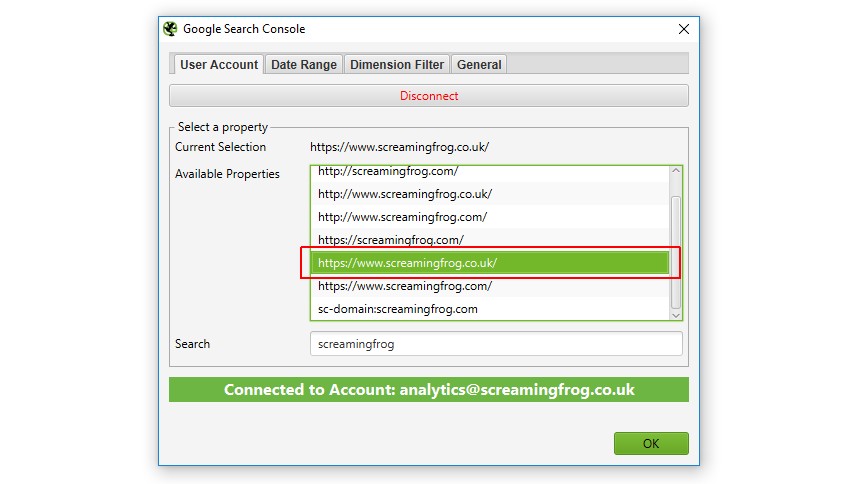 By default the SEO Spider collects the following metrics –
Clicks
Impressions
CTR
Position
You can read more about the definition of each metric from Google.
There are three dimension filters, device type (desktop, tablet and mobile), a country filter and a search query filter for 'contain' or 'doesn't contain' words, to exclude brand queries as an example.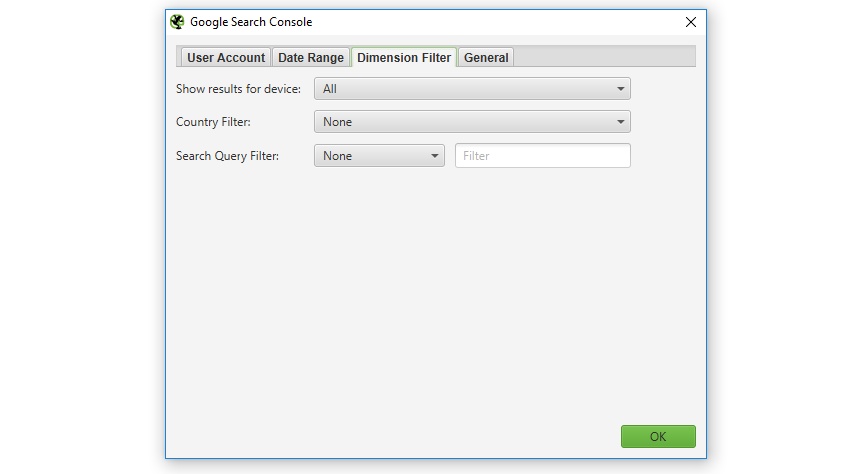 The general tab includes additional options that can be useful in different scenarios. If you wish to crawl new URLs discovered from Google Search Console to find any potential orphan pages, remember to enable the configuration shown below.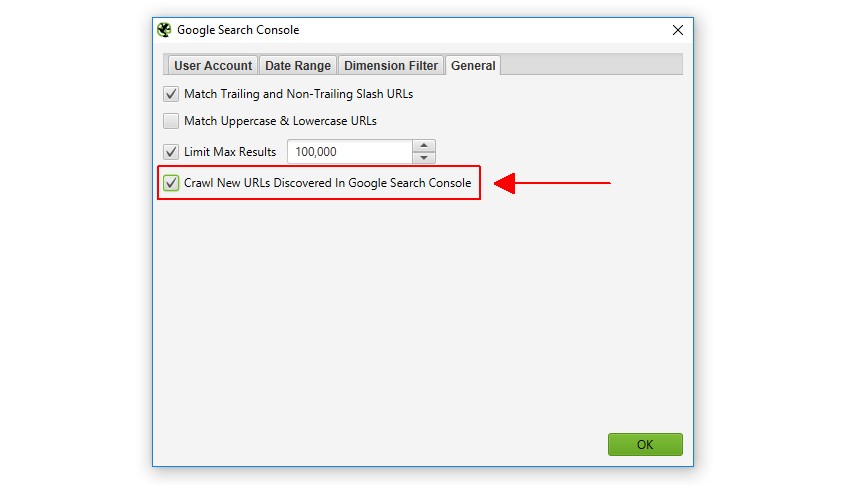 There are 4 filters under the 'Search Console' tab, which allow you to filter Google Search Console data.
Clicks Above 0 – This simply means the URL in question has 1 or more clicks.
No GSC Data – This means that the API didn't return any data for the URLs in the crawl. So the URLs either didn't receive any impressions, or perhaps the URLs in the crawl are just different to those in GSC for some reason.
Non-Indexable with GSC Data – This means the URL is non-indexable, but still has data from GSC.
Orphan URLs – This means the URL was only discovered via GSC, and was not found via an internal link during the crawl. Please read our tutorial on how to find orphan pages.
---
Back to top