15 Top Quotes and Takeaways from Brighton SEO
Mark Porter
Posted 17 April, 2012 by Mark Porter in Events, SEO
15 Top Quotes and Takeaways from Brighton SEO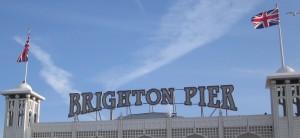 Real life Angry Birds, aggressive moths, a Street Fighter face off and of course some top notch talks and discussions. The Screaming Frogs were there to witness it all, and we've done the hard bit of picking out the best bits of BrightonSEO 2012 for your reading pleasure.
"SEO is not a checklist" – Pierre Far
BrightonSEO kicked off with a lively discussion panel, dubbed "Ask the Engines", which put Pierre Far (Webmaster Trends Analyst at Google UK), Dave Coplin (Director of Search at Microsoft UK), Martin McDonald (SEO Strategy Director for Expedia EAN) and Rishi Lakhani (Freelance Online Marketing Consultant) in the spotlight.
Some great questions were asked overall, with Pierre understandably being the main focus. He touched on how SEO is not a checklist, with Google and Bing both using 200 ranking signals, ticking the boxes will come naturally to high quality, regular content. Some sighs of relief were heard when Pierre stated that "SEO is not dying, it's simply evolving". He also spoke about the Unnatural Link Warnings that have been hitting many people over the last few weeks, and how important it is to be honest when submitting a re-inclusion request. Be sure to attach spreadsheets and screenshots as evidence that you have made a genuine effort to get rid of your iffy links.
Dave Coplin talked about the influence of social as a ranking factor in Bing. He highlighted that it's not so much about quantity of shares/likes, but how it flows and how fast it's being shared that's important. Bing currently use Twitter and Facebook for ranking signals (obviously not Google+). Bing also tried to win some brownie points by changing the Bing homepage picture to Brighton Pier.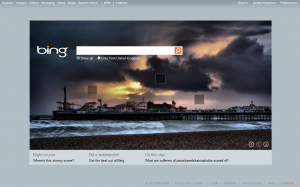 Rishi also raised some good points about the industry and how it's still very much so in its infancy, as it's still unknown by many people/businesses what SEO is. How many times have you tried to explain your job to someone, for them to stare at you with a blank expression and say "So you work for Google?" Rishi stated that when compared to other established industries SEO lacks core elements such as governing bodies, which are required for it to mature into a recognisable field.
"Big Data. Big Info. Big Knowledge" – Philip Sheldrake
Phillip Sheldrake in Future SEO Vistas provided a very abstract view of the World Wide Web. In his talk he went over the semantic web, Tim Berners-Lee, the internet of things. With various Google updates such as Panda, breaking down the ranking of small sites, he talked about what he likes to call "digital detritus". All this gave a very interesting look on the web, and how Google's algorithm is the ecosystem of the internet, controlling the conditions of search. Again, as SEO's, we should be ethical and responsible with our power to influence the search world.
A cool tool to play around with that Philip highlighted is
Relfinder http://www.visualdataweb.org/relfinder/relfinder.php
"A Brand isn't what YOU say it is, it's what THEY say it is" – Sam Noble
Koozai's Sam Noble gave a talk on how to launch or re-launch a brand or product online effectively. First off, we have never seen someone remain so composed while being persistently attacked by a big moth. The little fella was so determined that it even got its own twitter account.
Sam opened up with the above quote, highlighting the fact that brands are what people perceive it to be, not what you (as a brand) think it is. The presentation was packed with great tips, such as the importance of registering any domain names you like straight away to avoid disappointment, and how domain names you are interested in may mysteriously get registered if you keep checking their availability.
Keeping the project on a "need to know basis" avoids unwanted leaks, and cementing a launch date is vital to success. Be sure to avoid Friday launches, if something goes wrong you will be working through the weekend trying to rectify it. Using a service such as Knowem (www.knowem.com) is a great way to register (all 600) social network personas, and be sure to set up Google Alerts for your old brand name to keep an eye on who is still referring to your previous identity.
"Create Personas to find out what people are talking about" – Adam Lee
Adam gave some good pointers towards market research on a tight budget. Create personas to engage in different verticals/areas to see what all the talk is about. Use the same question twice in questionnaire catch out false reviewers who are quickly answering. Engage in social media, this is great from a feedback point of view in this day and age and engaged brands tend to have more engaged custom.
Microformats and SEO… and Yorkshire Puddings – Glen Jones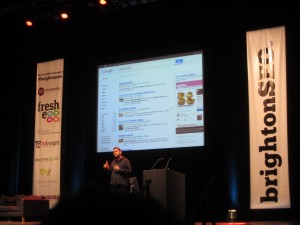 Glenn Jones's talk was all about various marking up data in Microformats and Microdata/RDFa. They are similar to rel=author rich snippets, and gave an interesting insight into methods of providing a better user experience. This is something we're sure we will all see crop up more, as Google's algorithm keeps evolving to incorporate greater trust and more aesthetic snippets as opposed to text based results.
Pierre Far contributed at the end to highlight the fact that Google will punish any websites abusing rich snippets, by disabling their ability to use them.
"Use server log files to determine what a search engine bot is looking at"– Roland Dunn
Roland took a look at the characteristics of search bots, and what they see when visiting your website. He mentioned how server log files are hard to examine as they tend to get pretty huge, but he took the time to take on this task and found some interesting results. He took a look at a website with 200k+ monthly visits, and found that only two URL's were being crawled by Google's search bot.
Are search bots lost children or hungry psychopaths? Neither, they are simply distracted teenagers.
"We're going to need a bigger checkbox"– Charlie Peverett
Content Is King, how many times have you heard that phrase? It was obvious that this was the message Charlie was trying to portray throughout this talk. He highlighted his annoyance at a white hat SEO company he encountered that spent time on 'fluffy' things such as Social Sharing buttons, without putting enough resources into great content. He stated that content takes on many forms, such as words, pictures and video, audio and tools, and are essentially "the assets which we communicate with our users".
"Have two espressos and eat a bag of Haribo" – Lexi Mills
Lexi, the head of PR at Distilled, gave up some great tips on getting big links from big media sites. The most interesting one definitely being the above quote, a tried and tested technique of hers to get riled up and come across as energetic and excited about a story when pitching it over the phone.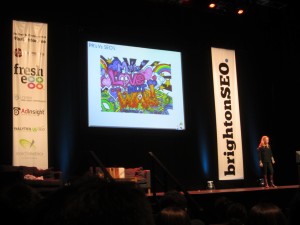 "It's not all about relationships" was a bold statement, as Lexi claimed some of her best links were obtained where she had no previous relationship with the website/journalist. It's all about pitching the right story, to the right person, at the right time. "Any response is a potential link", positive or negative, Lexi highlighted the importance of not passing up on these opportunities if a reply looks bleak.
She stressed throughout how much more effective picking up the phone can be when compared to email, as you can try passing the buck, i.e. "My boss has asked me to try and get a link in the story". That way they don't feel pressured to turn you down directly or may feel sorry for you.
"Maximizing your SEO Agencies"– James Owen
The SEO Manager for Hotels.com, James Owen, touched on the various phases you should go through with your SEO Strategy, such as building relationships with your agencies and the importance of efficient reporting.
"Be the turkey farmer not the turkey" – Stefan Hull
Using the Black Swan Theory, Stefan expressed his wonder for why us SEO's are surprised when Google releases updates. If you want to foresee the future, put yourself in the shoes of Google, who are striving to provide users with the best and most relevant search results. He also touched on bad links, if something looks bad/you know something is bad but you do nothing about it, you may regret it in the future.
The last session was in a 20/20 where each speaker had 20 slides, that auto forwarded after 20 seconds.
"Sell the Sizzle…" – Chelsea Blacker
Chelsea Blacker left us with some quick-fire tips in the 20×20's section. Using peoples name in conversation, smiling and using open questions are all tactics which can be used to build rapport as well as links. Think about your audience and use language that your target can understand. Don't do all the talking, it is about your 'mark' and this will reveal more information about them. The receptionist/secretary is your key contact for weaselling information out too, so use them to your advantage and make friends!
"SEO Tools, Tips and Techniques"– Tony King
Tony perked up the afternoon with his SEO Titties (tools, tips and techniques). Tony told us to define objectives clearly, rankings are again, not everything and how group brainstorming will involve the whole team, and richer ideas.
"I believe authors are the future"– James Carson
James talked about creating content and engaging in social that Rel=author can add authority/familiarity in a given vertical, and the importance of social as a ranking factor.
Mobile Serendipity: How Google Plans to Send Search Results to Users, Before You've Even Thought to Look – Nichola Stott
Nicola gave a great presentation on mobile serendipity. Her vision of what the future may be like made me think of a cross between George Orwell's 1984 and Charlie Brooker's Black Mirror.
"Every company needs a winking squirrel" – Dom Hodgson
Dom spoke about launching his online Sweet Shop, ClicknMix, and the problems he had, and ended the talk by launching EmberAds live on stage.
The day was nicely rounded off with a trip to a pub on Brighton Pier, where we indulged in some well-earned beer and discussed the day's presentations. Here's to the next one!
You can find all our Brighton SEO 2012 pictures on our Flickr.
Kelvin mentioned that videos of all the talks will be added to the Brighton SEO website, and true to his word they are to be found under a section called Brighton SEO Videos. We also found this handy Delicious Stack of all the talks, compiled by Yasir.