How To Get More Accurate Search Volume Data In Google Keyword Planner
Paudy Heal
Posted 22 August, 2016 by Paudy Heal in SEO
How To Get More Accurate Search Volume Data In Google Keyword Planner
You'll have likely noticed some big changes to the Google Keyword Planner tool recently – namely that it now groups together the search volume data for many similar keyword variants.
For example, if you research 'car warranty' and 'car warranties' you will see that they each have an estimated average monthly search volume of 8,100. This could be misinterpreted as a total of 16,200 searches for the two keywords collectively, whereas in reality the 8,100 number refers to the volume of both of these variants combined. These changes have been summed up excellently here. There have also been cases of Google suppressing the data for low spending advertisers, as detailed here.
The Benefits of Obtaining More Granular Keyword Data
Keyword research is an essential activity at various stages of an SEO campaign. Comprehensive research can help to identify a range of new opportunities, and obtaining the most accurate and telling data possible can lead to much more precise forecasting when evaluating the potential traffic opportunities for you or your clients' websites.
Let's continue with the 'car warranty' and 'car warranties' example. The likelihood is that one of variants will be more valuable, be more competitive, and have a higher search volume than the other – but how can we decipher which one now that Google combines the data within the tool?
Take this small sample from a keyword research document, where the new combined data that Google now provides is evident:

Wouldn't it be far more useful to still have more distinct and clear-cut numbers like the ones below to work from and forecast from instead?


There are a few incredibly quick and easy steps you can take within the Keyword Planner tool that will allow you to see these divided impression numbers, despite the recent update.
How To Get This Keyword Data
First, click on the arrows next to the all of the keywords you want more specific data for, and this will add them to your plan. Note that the search volumes for these each say 8,100 at this stage. When you're ready, click on the 'Review plan' button:


The next page you see should look something like this, minus all of the red boxes of course: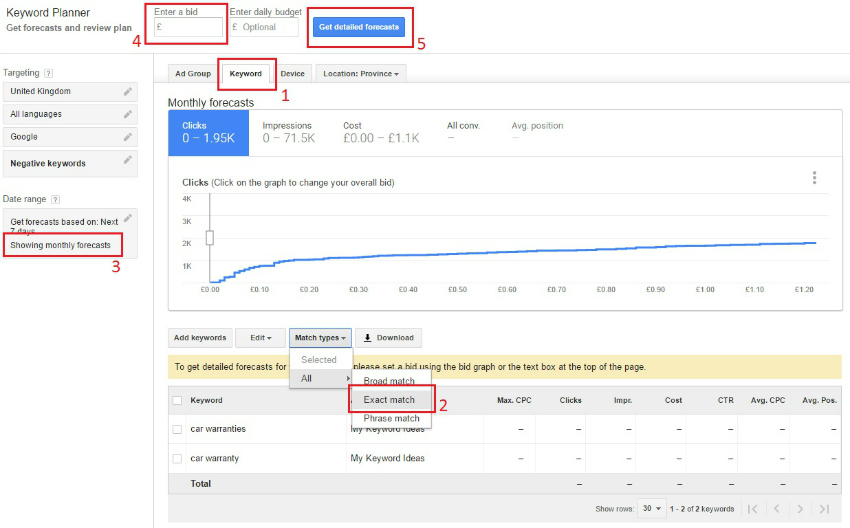 As you can see by the labels above, there are five things you need to check, adjust, or click in order to get the results you need:
Click on the 'Keyword' tab
Click on 'Match types' > 'All' > 'Exact match'
Double check that the date range is set to display forecasts by month
Enter a bid of £99, as entering a maximum bid will ensure you're only seeing impressions based on first page results
Finally, when you're ready to go, click on the 'Get detailed forecasts' button
Et voila. The table should then update, displaying much more accurate impression data, and providing the average monthly search volumes similar to those you've been used to seeing prior to the tool's update: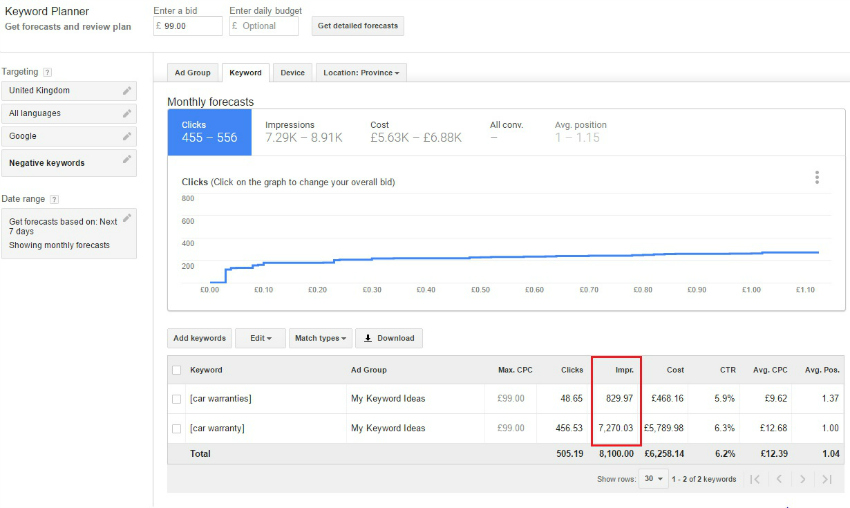 You'll need to round these numbers up or down to a degree, but you can see that instead of both of these particular keywords having an average monthly search volume of 8,100 each, 'car warranty' in fact has approximately 7,300 searches, and the plural 'car warranties' has just 800 searches in comparison.
You can now download this data and start to compile keyword research that tells a much more accurate story, as you saw earlier:


I hope this quick guide can act as a handy point of reference next time you perform some keyword research. If you've found any alternative ways to discover these more specific numbers within Keyword Planner since its update, let us know in the comments.