The Do's and Don'ts of Chasing for a Link
Mark Porter
Posted 15 August, 2019 by Mark Porter in SEO
The Do's and Don'ts of Chasing for a Link
It's happened to all of us. You bag another piece of coverage for your client's content piece on a top-tier publication, which you're ecstatic about. However, after a quick scroll through your elation is suddenly offset by a small twang of disappointment. There isn't a link to your client.
Getting links these days is tough. Publications have enforced sitewide no-link policies, and these days journalists can be apprehensive to add them. I'm not going to delve into the reasons for why this is, or why they shouldn't be apprehensive/strict with linking, but I will drop in this Tweet from Danny Sullivan, Google's Public Search Liaison: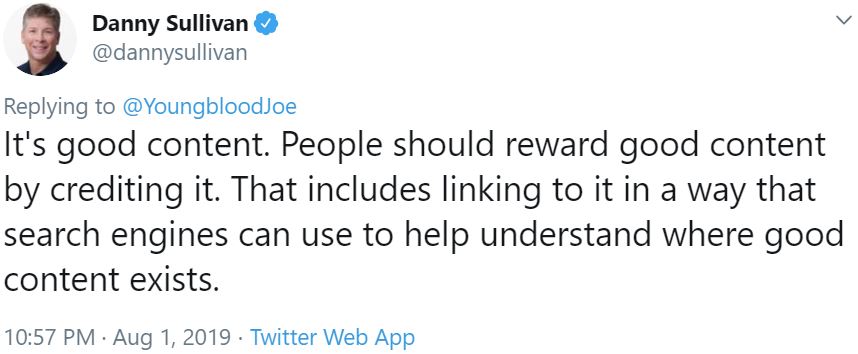 I'm going to talk today about how best to approach journalists who have covered your content or story, but haven't linked to your client. There are some obvious do's or don'ts that you'd hope everyone was aware of, but unfortunately Tweets from journalists like this are a regular occurrence: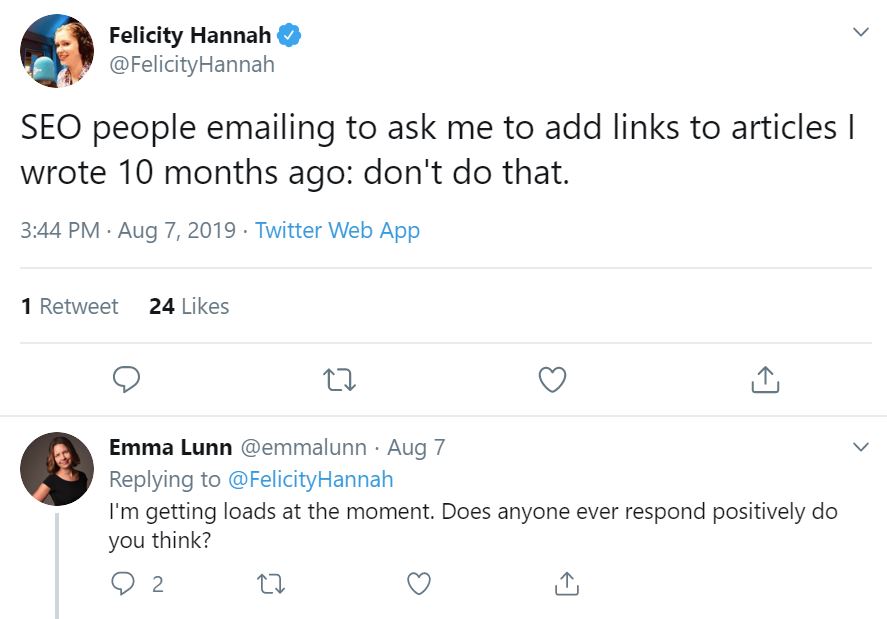 Which leads nicely onto the first point.
How Long After an Article Going Live, Is It Appropriate to Chase Up?
When it comes to approaching someone to add a link into a piece of coverage, the quicker you do so after the time of publishing, the more likely they are to be receptive to your request. In my opinion it would be acceptable to approach someone for a link within 1 week of an article going live, and if the topic is still somewhat relevant.
The chances of them doing so does start to tail off quite quickly, and after the 1-week period is gone it really is best to move on and let that one go. Otherwise you risk damaging your relationship with a journalist and/or making your client look bad.
I ran a little poll over on Twitter to hear other people's thoughts, and the majority voted that within a few days is an acceptable time-frame to chase up a link.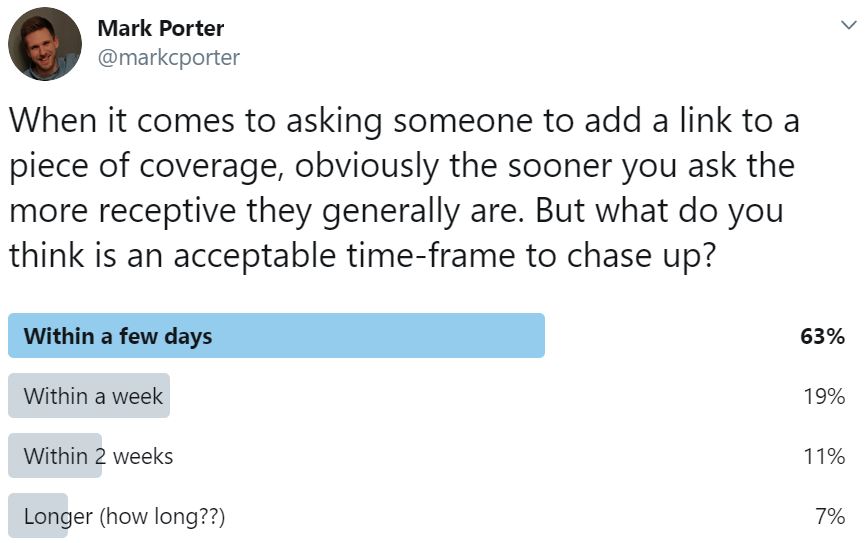 Ensure That a Link Adds Value
Before chasing someone to add a link, ask yourself if doing so actually adds value to the piece. Is there more data to be found on your client's site? Is it a nice looking interactive that makes it easier to view, sort and filter data? If the answer to these questions is no, you're hindering your chances of people naturally linking to your content, and the chances of them adding a link as a result of you approaching them.
When chasing up, make sure you include your reasons for why they should consider adding a link to the piece, as this likely to increase your chances.
This is why it's super important to make sure that content you make are linkable assets, where it makes sense to point users and readers to the page (via a link), and it needs to be baked into the process during the early stages of ideation.
To give you an example, we put together this index for a client that ranks the world's best tourist attractions. It presents the data in a visual way, allowing users to click on each tourist attraction to view a picture of it and it's location, and they can also sort the data as they see fit. With these features in mind, people would struggle to think of a reason why they shouldn't add a link through to the content piece.
Ensure You're Emailing the Right Person
A small point: make sure you are getting in touch with the right person. The majority of the time this will be the individual who you emailed initially or who authored the article, though occasionally there may not be a name associated to the post. As well as this, the author of the article may not always be the one who makes the decision whether a link can be added or not, as it can sometimes be the responsibility of the digital editor or similar role.
Use your best judgement and ensure you're getting in touch with the right person, to avoid confusion and mild embarrassment.
Agree up Front to Add a Link
If you have the opportunity to discuss with a journalist prior to them covering the piece, for example if they respond positively to your original pitch email asking for more information, it can sometimes make sense to propose that a link is included at this point.
Be polite and keep it simple, again highlighting the reasons why a link adds value to their article. To give a quick example:
"If you do cover the piece, it would be great if you could add a link to it. All the data can be found on the aforementioned page, and users can filter and sort the data as they see fit. The methodology is also explained in-depth, as well as links to all the sources we used."
Sites That Don't Link Out
There are some sites that never link out, and in this instance, it may make sense to save yourself some time an effort and not chase up for links. You could try your luck, but use your judgement and previous experiences here, for example don't chase a publication for a link that's already told you that they don't link out, as you could potentially harm your relationship with the site.
Where Should the Link Point To?
Generally speaking, if a journalist has covered your client's content piece, the best place to link to is the subsequent page on the client's domain. However, this may not always be the case.
If your client has provided a comment or is quoted within an article, you may find you have more success asking them to link to a bio page of the spokesperson on your client's site. If you don't have a bio page for your client's spokesperson, it's definitely worth considering if they are regularly quoted or contribute to articles within the industry.
On the subject of asking people to link to a specific page, it's common for people to link to the client's homepage instead of where the content sits on their site. Proceed with caution if you're thinking of asking someone to change where a link points to. Generally speaking it's best to be happy with another link in the bag, and it all helps add to a natural and diverse link profile.
To Summarise
To summarise the above, when chasing people to add a link to your content:
It should be within a few days of the article going live. If it's outside that window, it's best to move on otherwise you risk damaging your relationship with journalists.
You should ensure that including a link actually adds value to the article and its readers (more data, methodology, sources etc.)
Ensure you're emailing the right person!
Consider proposing to a journalist that they include a link a head of the article going live, if the opportunity for discussion arises.
If you know a site doesn't link out, it may make sense to take it on the chin and move on.
If your client is regularly quoted or contributes to industry news and articles, consider creating an bio page on their site. We've found that people are more receptive to add links.
Over to You
I'd love to hear if you have any additional experiences or tips in regards to chasing links, so please do get involved in the comments. 👇