Streamline Content Creation and Plan in Quarters Using Screaming Frog
Zoe Ashbridge
Posted 14 August, 2023 by Zoe Ashbridge in Screaming Frog SEO Spider
Streamline Content Creation and Plan in Quarters Using Screaming Frog
Content has been under a microscope lately. With the influence of AI content and Google's developing algorithm, it's no wonder Google searches for content planning are increasing.
To some, content marketing might feel like a web of confusion. There are questions on how marketers create a content plan that serves users and meets Google's guidelines. While content planning is unique to every business. I can share the tactics I use to generate quarterly plans for my clients using the Screaming Frog SEO Spider for some of the most important steps.
Walk through each step (do not miss step seven), and you'll feel empowered with the knowledge to create a content plan. The tips provided in this article are tried and tested over eight years of online marketing, manageable enough that anyone can do it but robust enough that you'll get results. Let's get into it.
This article is a guest contribution from Zoe Ashbridge, SEO consultant at forank.
---
Importance of Creating a Content Plan
Without a content plan, you risk producing irrelevant, inconsistent content and lacking direction. One of the major problems that I witness is marketing specialists having to think on their feet for that next article. You don't want writers without work, so you jump to the next logical topic.
Don't get me wrong, these topics are often good enough. After all, you know your audience and the questions they're asking, but will a fly-by-the-seat-of-your-pants plan help you rank in Google and get the most out of your efforts? Probably not.
The major benefits of a content plan include:
Direction for your digital presence. You will know what you're writing and, importantly, why.
Measurable marketing efforts. You can only measure the success of your work when there's a specific goal or objective.
Increased marketing budgets. If there's a goal and proof of success, you'll have an easier time getting budgets for writers and resources to take your digital presence to that next level.
Builds E-E-A-T. Your plan will focus on building your expertise, experience, authority, and trust with Google. This will help you rank for desired keywords.
Increased productivity. When you've scoped out a quarterly content plan, everyone will know what needs doing and by when. Your writing operations are streamlined.
Benefits to other marketing channels. You can better support marketing channels, and they can help you when there's a plan. For example, if social media know what's going live and when they can add it to their content plan.
---
Developing a Content Plan Process
There are two parts to developing a content plan. Firstly, you'll want to take steps to create an informed and data-driven plan. Secondly, you want a plan that supports your business operationally.
This article will help with the former. You may want to make adaptations so this process feels truly like yours and as useful to you and your team as possible.
Step 1: Understand business objectives
It's marketing's role to drive revenue for a business and create a plan that pushes the company toward its objectives. If not already part of the process, marketing should speak with founders or CEOs to understand the business' goals.
Everyone is busy at work, and it's easy for steps like this to get sidetracked, but it is critical for marketing success. It's worth remembering that planning content in quarters means that these meetings only need to take place four times per year, potentially less.
Step 2: Understand your customer
Creating a content plan that is Google-approved can lead you down a tangent of SEO content that is semi-useful for your audience.
When it comes to content planning, I like to start off with a human touch. After all, the ultimate goal of content is to address your target audience's concerns and nurture them to conversion.
I know it doesn't sound overly special, but I cannot express the importance of simply talking to sales, your customers, and other marketing teams.
You can't beat getting around the table and sharing ideas, but you could send a survey if you're short on time. The questions you could ask to understand your customers better are endless, but here are some questions to get you rolling.
What FAQs are sales answering that we can answer in our content?
What do sales recognise as the biggest problem that customers face?
What are the most common questions or concerns customers have before purchasing?
Are there any recurring issues customers face with our products or services?
What do customers complain about the most in product reviews or on social media?
What are some common misconceptions customers have about our products or services?
What are the most common reasons why customers abandon their shopping cart on our website?
Are there any aspects of our products or services that customers find confusing or difficult to use?
Why do the customers that buy from us choose us?
How do customers prefer to communicate with our company? (eg. phone, email, chat, social media)
What suggestions or feedback have customers given that we can incorporate into our content or marketing strategy?
You can align business objectives with the customer experience to help narrow down what you're going to write and why.
The above two steps will get you so far, and you should feel empowered with knowledge here. You know have an idea of what needs creating, but likely, at this point, you're still overwhelmed. You've probably just unearthed years of content, and if you were to start firing content pieces off, although well-intentioned, you won't be particularly strategic.
Before you get rolling, you need to get data to narrow down what you're writing about.
Step 3: Conduct a Content Audit
It helps to know how your website is performing before you plan more content. A full content audit is ideal. On top of the technical components of your audit, you'll also want to know exactly what's already live, what performs well, where you have the most authority and content that needs improvement.
As part of your audit, you can dig into the content that's currently on your site. You can use Screaming Frog to identify content performance based on clicks and impressions.
You might be surprised at how many content opportunities you'll discover with this method. For large sites, it wouldn't be unusual for a quarterly content plan to be made up of entirely existing content edits.
Content that's earning a lot of clicks is your top-performing content in terms of traffic, but undoubtedly you'll come across content with high impressions but low clicks. This is an indicator that there are low-hanging fruits that could benefit from some optimisations.
Here's how you do that.
Configure Screaming Frog
Before you crawl your pages with clicks and impression data, you need to configure the crawl. In the menu, click Configuration> API access.

Once you've selected your API Access, a new window will open where you can connect your Google account with Screaming Frog. Make sure to connect the correct Google account, the one that has access to the GSC property of the website you want to crawl.
Next, you need to select your available property. Make sure you choose the property that has data in GSC.

Before you click 'OK,' click the tab 'Search Analytics.' Here you will configure the data you want to pull from Google Search Console. I recommend choosing 12 months.

Click OK.
Top tip: to get the most out of this exercise, I recommend repeating the above using the Google Analytics 4 or Google Universal Analytics API.
Once done, type in your URL into the search bar and click 'Start.' The crawl can take a while, depending on the size of the site.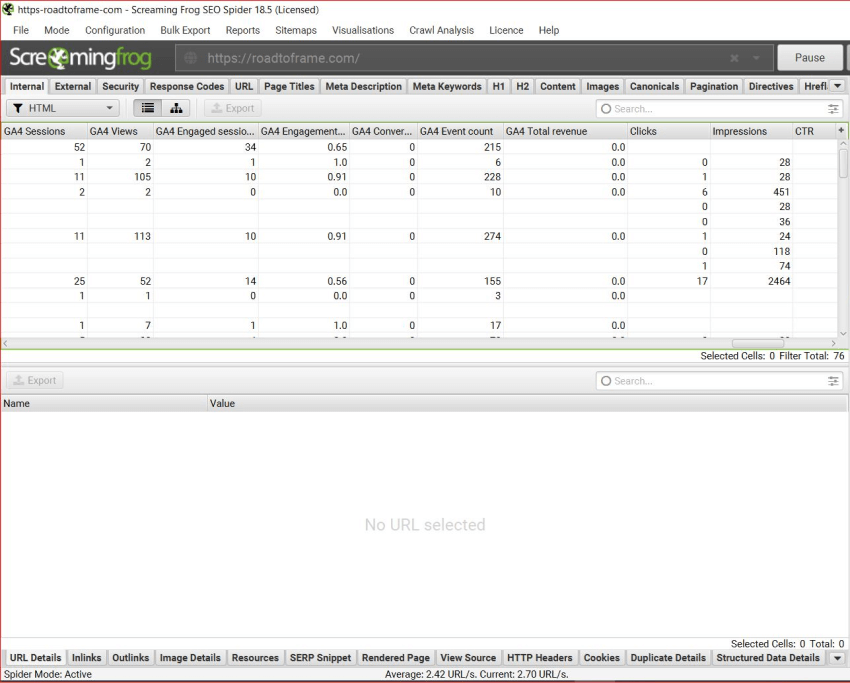 Top tip: before you leave the crawl, make sure that you've set up the API correctly. As pictured above, select internal HTML URLs (right window) and scroll through the crawl until you find GSC/G4 data. Make sure the data is populating. It's easy to forget one of the APIs or connect to the wrong property and rather find out now than at the end of the crawl.
Once done, export HTML URLs. I like to export to a Google sheet but use Excel if you prefer.
Your download will look something like the screenshot below.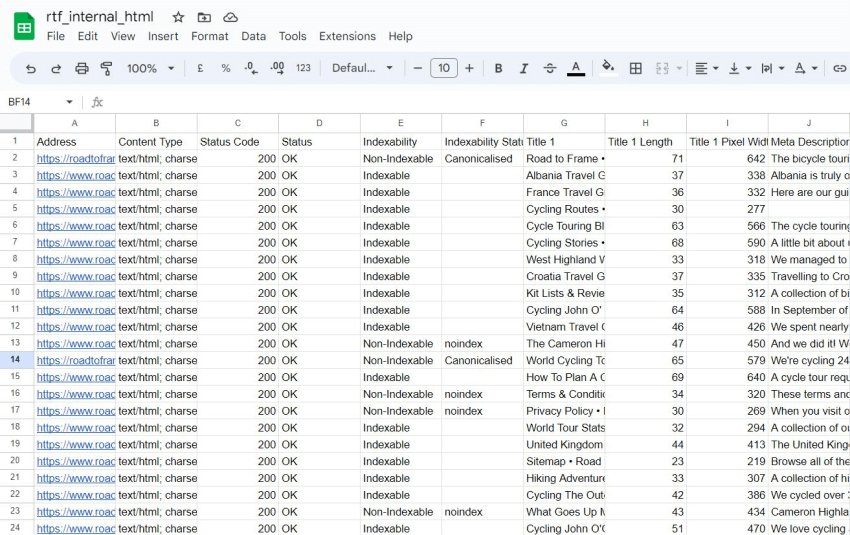 Manually prepare your data for analysis
There's a lot you can do with the APIs with Screaming Frog, but for the purpose of this blog, we're focusing on content analysis and high impressions, and low clicks.
You're going to need a copy of my free content planning document.
Grab the free content planning document here.
Match the columns in your crawl to the columns the document lists.
The columns required are:
Address/URL
Indexability
Sessions
Views
Engaged Sessions
Engagement Rate
G4 Conversions
G4 Event Count
G4 Total Revenue
Clicks
Impressions
CTR
Impressions
If there are other columns you want to keep, feel free to. You can add or change the spreadsheet as you like, and once you've run this a few times, you'll get a gauge of what feels good for you to consider in your analysis.
The important thing to remember is that you need to copy and paste the columns directly into the template doc, so make sure the column line up exactly.
Top tip: before copying and pasting your content, filter out non-indexable URLs.
Once you've copied and pasted your data, the template will do some work for you, highlighting columns helping you to see your highest and lowest impressions and clicks.
Manual analysis
How you analyse your content will largely depend on your website, so it's tricky to set parameters here. You need to decide how to analyse the numbers based on your site.
That said, here are some considerations to help your analysis.
If you have a page with high impressions and high clicks, you might not want to focus on it right now since we're looking for pages that we can improve with relative ease.
For now, decide how many clicks are a good number of clicks for pages on your site. Your heavy-hitting pages can be excluded from the analysis for now. Hide any rows with clicks above this number.
Use the visuals to help quickly identify some fast opportunities. We're looking to find high impressions and low clicks, so look for green cells in the impressions column next to red cells in the clicks.
When making your analysis look at the G4 data to support your decisions. If you had a page with a high number of events taking place for the clicks received, this would be a page to prioritise since engagement is good.
Equally, if you have a high engagement according to G4, this page should take high priority since those who find it are actively engaged.
Further analysis in Google Search Console
When you've finished your manual analysis and identified the pages with high impressions and low clicks, you can take your analysis a step further and look specifically at pages and the corresponding queries in Google Search Console.
To do this, go to Performance and Search Results. Filter by page and, if relevant, filter by the country you want to focus on. Study the queries.
You will need to use your knowledge about your site and what a desirable rank would be, but here are some considerations.
Look for keywords that you feel should be used on the page based on search intent.
Focus on keywords at the top of page two or the bottom of page one.
Once you've established keywords you want to try and rank, you can use them within your content plan to strategise toward helping keywords rank so you can earn more clicks. Your plan might include new pages to help keywords rank, increased internal linking using the keyword as anchor text or potentially re-writes and edits of existing content to better meet the search intent of the keyword.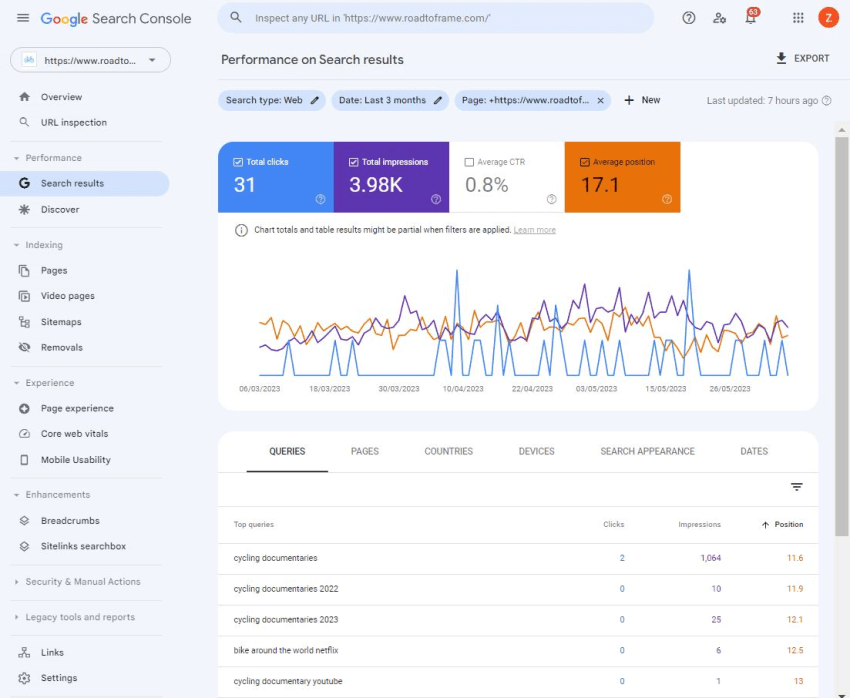 Step 4: Generating Content Ideas
Your content audit will help you discover low-hanging fruits. You can start prioritising content actions by identifying pieces of content that perform (and those that don't).
For example, you can look out for:
Keywords on page two that, with a little work, move to page one
Topics where your site has authority. You can spot authority by identifying topics that are ranking well. It can be desirable to roll with what's working already since getting traction in search engines will be easier.
You'll spot issues within your site, like 404 pages. Although this item is creeping into technical SEO, it doesn't hurt to check for such issues.
Highly desirable keywords that don't rank well. Perhaps these keywords need more content creation.
Step 5: Decide How Many Pieces of Content You Can Write (Be Realistic)
There's no doubt that there will be more content ideas that your team can physically write within a quarter. Before creating your plan, ask yourself, realistically, how much good content your team can create?
You want your plan to be motivating and achievable, and not debilitating.
Remember, good content is more than just words on a page. You may need to create videos, work with design to create images, and conduct interviews with your team.
Step 6: Setting Your Content Goals
Your content goals should align with your website's goals and objectives.
Examples of content goals include:
Sales
Generating leads,
Increasing website traffic,
Improving brand awareness,
Increasing conversions such as newsletter sign-ups, white paper downloads, etc.
You may write some content to drive internal links to revenue-generating pages (more on this later).
Once you have established your content goals, you can develop a content strategy that supports them. We'll come back to content goals with more nuance later.
Step 7: Develop the Content Cluster
Honestly, this is one of the best tips I can give you. You can maximise the impact of your content by working in clusters. This tactic is transformative and an area that most content plans are lacking.
Robust content clusters are one of the most effective ways that smaller brands can compete with industry leaders in the SERPs, too. It's powerful.
The goal of content clusters is to produce related content pieces around one topic. Working this way means that you prove E-E-A-T to Google and your users. You will create a comprehensive resource for your readers, improve your chances of ranking in search engines and provide the best content for marketing teams like social media or email marketers to share with your audience.
To develop a content cluster, start by identifying the page on the website that will generate sales. For e-commerce, it's your collection or product page. For service-based businesses, this will vary on the buyer journey, but it could be a service page or something like a whitepaper download.
Your revenue-generating page is your most important page of the cluster. It is also most likely the most difficult page to rank, as all your competitors will want to rank for keywords that lead your users to that page.
So, your content plan needs to do two things:
Include content that ranks for longer tail keywords. These pages can, where natural, link to your revenue-generating pages so that users can navigate to the revenue-generating page via the easier-to-rank piece. The link also drives some authority to the page it's linking to, increasing chances of ranking in Google.
Address all questions and queries relating to the topic. You can refer to step two here. Pull out any customer problems related to the topic you're focusing on and prioritise these in your content plan.
To expand on point two, what you also want to do is start to dig into SEO data to discover questions your customers are asking. You will likely find a lot of crossover between what's ranking and your findings in step two.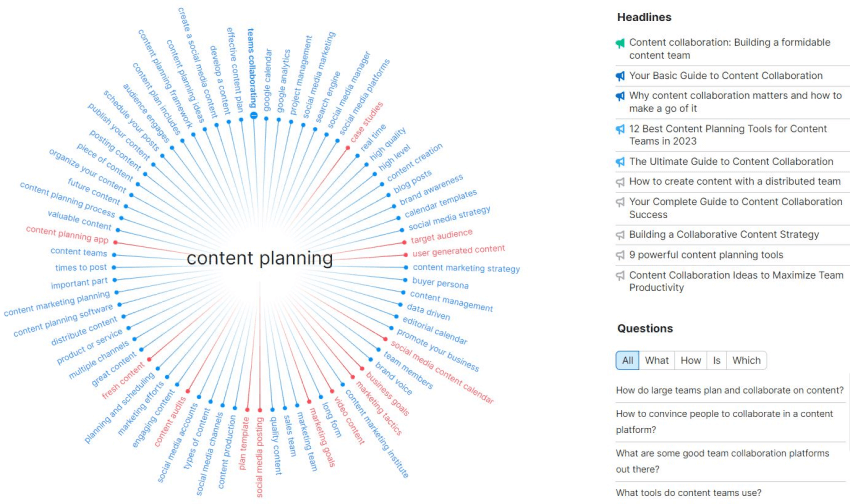 You can analyse the People Also Ask section of Google to identify FAQs. Or, use keyword research tools like Semrush's Topic Research for inspiration or the keyword magic tool to identify keywords people are searching for. Free tools include UberSuggest or Answer the Public.
---
Creating Your Data-Driven Quarterly Content Plan
Okay, now it's time to put the plan together and create an actionable deliverable you and your team can work from.
If you've followed steps one to seven, you know:
What the business goals are
Customer problems you need to solve
Strengths and weaknesses of the site as it is now
Roughly what you want to create and why
How much content you can reasonably produce
The goals of your pages
The content cluster you're going to prioritise
To create your data-driven quarterly content plan, start with your revenue generating page since this is most important. Likely, it already exists. If it does, see what you can add to it to improve the UX and visibility via keyword ranking.
If it doesn't exist, this is your first piece of content to create.
Once done, develop a plan for all the pages that will support the ranking and funneling of traffic to that page.
Personally, I like to track this in a Google Sheet. For a robust strategy, do a lot of the research now. Assign keywords, the URL, notes on the purpose of the content, and any media you need to produce to support it (video, for example). Here you want to get nuanced into the purpose of the piece. Each piece will have its own goal; it might be written for traffic or to answer specific buyer queries. You may be able to take notes about the most useful pieces for other marketing channels. For example, is there a piece that will be particularly useful for social media? Or perhaps an article that sales will want to forward to prospective customers.
Give each piece of content a deadline and help your future self by constructing a content process using a Project Management tool like Trello or Asana. I like to break down every task of the content plan process. Add a deadline and assign accountability to the team involved.
I would do the above for as many pieces of content that can be written within a quarter. If you're writing one piece per week, you will end up with a Google sheet with 12 rows.
---
Bolster Your Content With Internal Links
Although not always the case, it may be that you have already touched upon the topic you're writing about as part of your quarterly content plan with.
There's every chance you've already used keywords assigned to content pieces in the past, and where you've used the keyword, it will help your new content rank if you can link to it from older pieces, especially if the older pieces already have traction in Google.
Here's how you can use Screaming Frog to do that.
Search for link opportunities
If you've assigned your keywords to content pieces, as I recommend. You can use Screaming Frog to find every keyword usage across your entire site.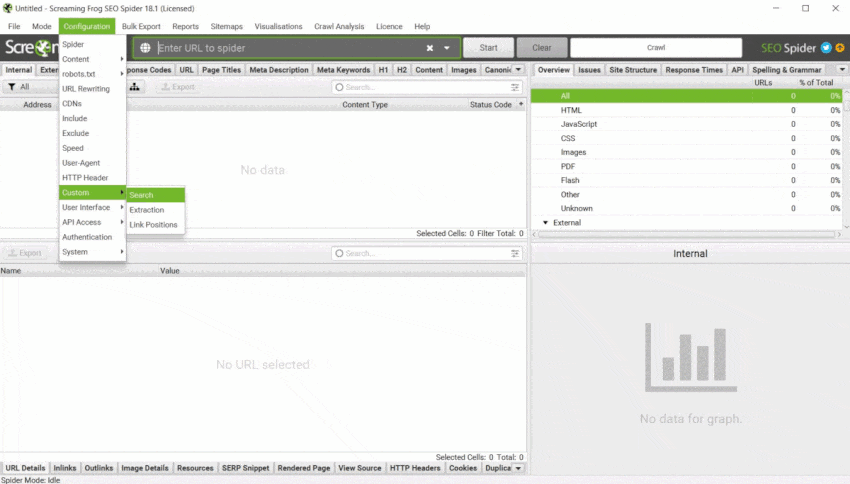 You need to be careful with your internal linking plan here. In the example above, Screaming Frog found 135 instances of the keyword 'cycle touring' on my blog, Road to Frame. If I create a page targeting cycle touring and add 135 internal links, it will look spammy and forced.
For the purposes of this article, I suggest you use your best judgment on where to add your links. Think about the user and where they will most likely want to click the anchor link.
Internal linking check
Once you've got your pages live, you can see how many links each page already has. In the case of your quarterly content plan, you might compare your revenue-generating page with a competitor to help determine how many links your page might need to rank.
Remember, internal links are just one part of the SEO puzzle, and matching your competitor for internal links likely won't be enough on its own, but it's a start.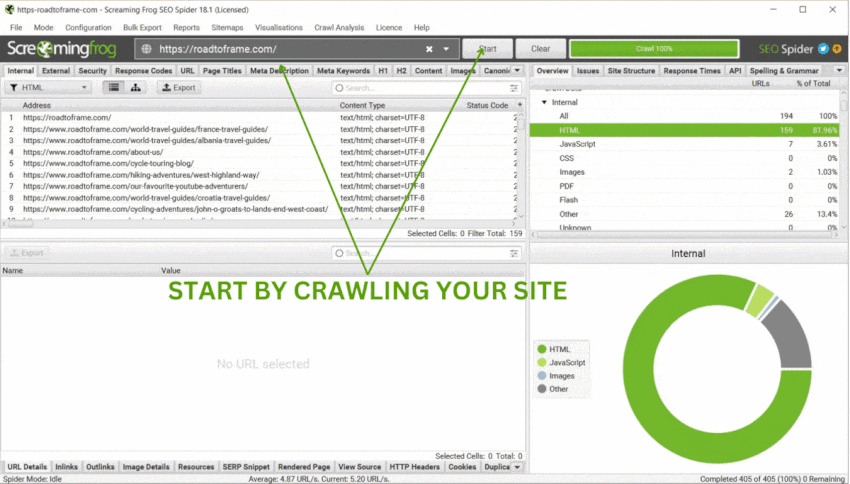 ---
Tools for Planning Website Content
There are several tools available to help you plan your website's content. Here are some of the most popular tools.
Screaming Frog SEO Spider
The examples above show how Screaming Frog crawls content on your site to help identify internal linking opportunities. As highlighted in steps six and seven, internal links and developing a robust content cluster are transformative for producing a content plan that actually ranks.
When it comes to content planning, Screaming Frog can also analyse your website's metadata, page titles, and content. You can use it to identify broken links and 404 pages.
Additionally, you can use Screaming Frog to check spelling and grammar and duplicate content. These tasks contribute to a clean and tidy website; the details matter.
G4
In the content generation stage, you can use G4 to analyse content that performs well so you can replicate it. You can drill down to user demographics and ages to determine which demographic is your best customer in terms of revenue. If you know who you're targeting, why, and what they like to visit on your site, you can use this information to generate content ideas that'll work.
Top tip: create custom reports of your favourites so you can view them easily in the future.
Google Search Console
Google Search Console is a trove of data. You'll use this as part of your content audit. When it comes to content planning, your most useful report will be the performance report, where you can see how individual pages perform, plus the keywords you're ranking for.
Top tip: look for keywords with high impressions but comparatively low clicks. These keywords might need new content to rank better.
ChatGPT
I don't recommend using ChatGPT to write your content, but you can if you want to. If you do this, you need to prompt the tool with all the information; without a solid prompt, ChatGPT content will be generic, and it'll stand out to Google for all the wrong reasons. Plus, you'll need to prove your experience because ChatGPT obviously cannot do this.
A better use of ChatGPT, in my opinion, is using it to help with the idea generation stage. You can feed in the information discovered above and ask ChatGPT for content ideas.
Top tip: use the latest version of ChatGPT for the most developed AI tool. It improves incredibly with each version.
---
Measuring the Success of Your Content Plan
Naturally, how you measure the success of your content plan will depend on the goals set earlier. There are several metrics you can use to measure your content's success, including
Website traffic,
Search engine rankings
Social media engagement
Conversions
Return on investment (ROI).
Top tip: if you haven't already, make friends with Google Tag Manager to track data. The more data you can provide at your next budget review, the more likely you will get buy-in for more content.
---
Final Thoughts on Content Planning
This article is a comprehensive guide to content planning. It might feel intimidating, to begin with, but if you walk carefully through each step and apply your knowledge and understanding of your market as well as good old-fashioned common sense, your content plan becomes more useful than ever.
Once you've produced your content plan, it gets easier. Every quarter you will walk the same journey as outlined above, using the template you created as you walked through the first time.
I promise it's worth it! If you have questions, reach out to me on LinkedIn.