When Google Gets Penalties Wrong
Dan Sharp
Posted 19 July, 2012 by Dan Sharp in SEO
When Google Gets Penalties Wrong
I wanted to share a very interesting Google penalty case that we ecountered recently.
An old client who owns an ecommerce website with a multi-million pound turnover and sells electronic goods called me out of the blue a few weeks ago on a Sunday morning, extremely concerned because their website had completely dropped out Google's search results. Never the type of phone call you want to receive.
Overview
This is how the plummet in visibility looked in Search Metrics to help you visualise what happened –

A quick analysis showed they were no longer appearing for any search terms, even their own brand. But their website hadn't changed, they didn't have any problematic robots directives, their pages were still indexed (they showed under a site: command) and they had no obvious signs of hacking with embedded links or malware etc.
I immediately looked at their backlink profile which was quite clean. I couldn't see anything immediately problematic at all. But there certainly appeared to be a penalty.
Our old client no longer had a Google WMT account, so I asked them to verify this immediately and see if there were any messages from Google. Sure enough a few hours after verifying the account, the following message arrived –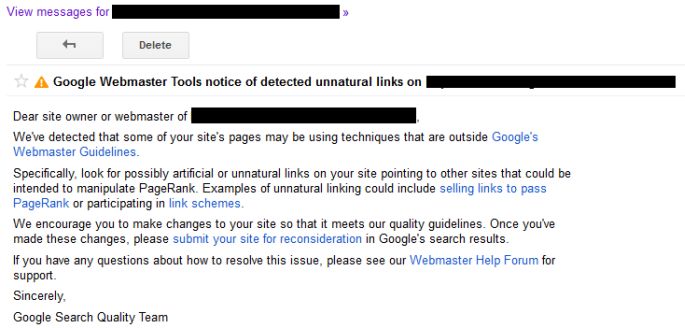 I had to double take at the above message. They were being accused of selling links that pass PageRank.
As I mentioned above, this is medium sized business with a multi-million pound business who sell electronics goods through their ecommerce website, why on earth would they ever sell links? Our old client assured us that this wasn't the case at all.
Analysis
So we looked into the issue and performed a crawl of the website (yes using our SEO spider) and found a handful of external links. Of which, two product pages on the website appeared to be linking out to a direct competitor which was strange.
These two product pages had 4-5 embedded keyword rich links within the product description all to the competitor, linking to the brand overview of the product, the model number, product page and even a help guide.
As an example, I'll use the well known Currys website. Please note, this did not happen to Currys, this is an example. Their product description is fairly standard as you can see below –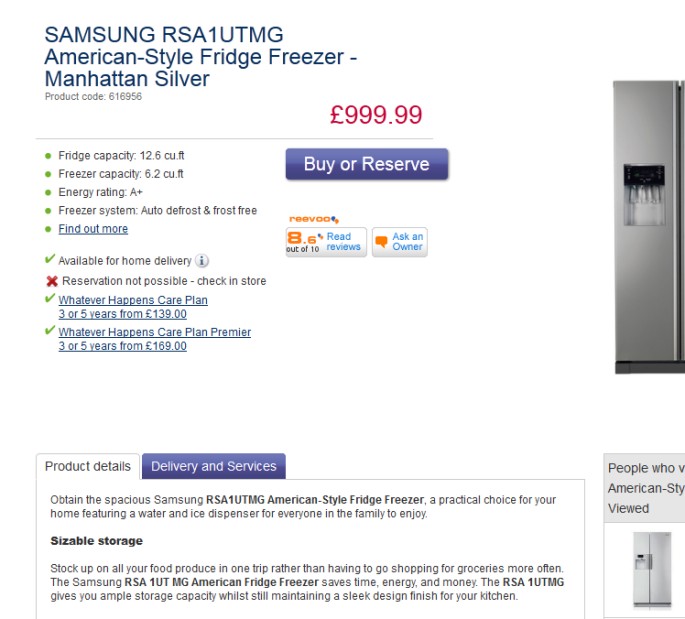 Now just imagine that 4-5 of the key phrases in the 'product details' area at the bottom such as 'Samsung', 'SA1UTMG' and 'Fridge Freezer' etc were all hyperlinks to a direct competitor.
This is what we discovered on two of the pages. Stupid yes, but selling links? Really? No, of course not. Why would they sell links on a product page to a direct competitor? Was this really the problem?
Anyone who works online will probably be able to guess quite easily what had happened for these links to appear. Quite simply a couple of new products had arrived and a member of the team wanted to upload them manually to the website. Instead of writing unique content, they just wanted to upload the standard manufacturer's copy quickly. To do this they copied it from the said competitor and pasted it directly into their CMS. When you copy and paste in this manner, it can also copy the hyperlinks though! Hence, they also copied the embedded internal links from their competitor into their own product description.
Again, stupid yes. Very. Their team knows that they should write unique copy for each product, but from time to time they do use the standard manufacturer's descriptions when in a rush. A much larger concern was copying content from elsewhere for obvious legal reasons, but without condoning this behaviour, the said team member knew it was just the standard manufacturer's copy.
Recovery
Our old client removed the hyperlinks and submitted a reinclusion reconsideration request to Google. Exactly 18 days later, they received a message saying the manual action had been revoked –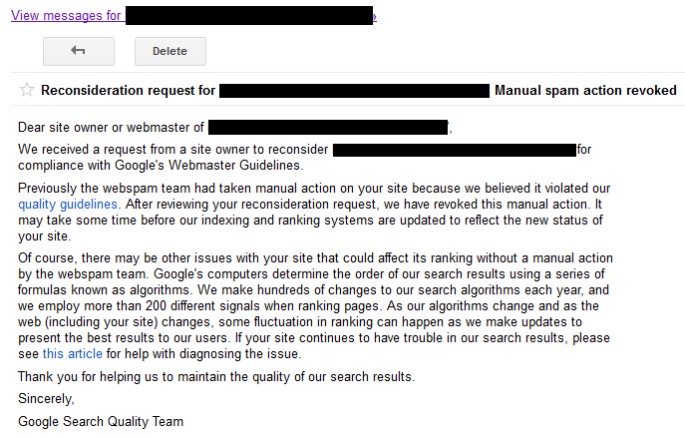 3-4 days later, the website was nearly completely recovered, as can be seen in (now the standard) Search Metrics visualisation –

Summary
You might argue that being silly enough to copy someone else's website that this was their own fault, and you would be right. But the really interesting part of this case is that –
Google were convinced enough that they were selling links, that they even dropped them for brand related search queries. This was not just a penalty, but an extreme penalty. The website those links were pointing to (so the website which was therefore 'buying links') was not impacted at all.
Google were wrong. They convicted the website for selling links without trial when most who work online (or perhaps my SEO mindset has too much bias), it was pretty evident that this was not the case. The fact that this was a manual action also shows this was a real person who reviewed the case, it was not an automatic penalty. So even Googlers make mistakes, they are just a little more costly.
How did they discover these links when it was just two pages on a website with over 1.5K product pages? It's my belief that they got flagged due to quantity (there were 4-5) within textual content which were extremely keyword heavy. So watch overdoing links in articles guys, it's a clear signal. We also considered that conversely the website who our old client was linking to might have been accused of buying links. But this does not seem to be the case at all, their link profile is clean and they have remained in the search results.
On a final note, this is exactly why you should never put all your eggs into that one Google basket. Even when you try to stay by the rules, you can make silly mistakes, which end up causing much, much larger ramifications to your business.
I'd be happy to answer any queries regarding this case if anyone has any questions.