How To Use The Screaming Frog SEO Spider Tool To Audit Backlinks
Graeme Radford
Posted 22 September, 2011 by Graeme Radford in Screaming Frog SEO Spider
How To Use The Screaming Frog SEO Spider Tool To Audit Backlinks
For those of you that like to keep an eye on your backlinks and check to see if they are still where they should be, it can be a laborious task. Perhaps you have a list of links from sources which need to be checked that they are still in place or have been removed after a link audit. How can you be sure they are where they should be?
Well, it's easy to use the SEO Spider to help do this in bulk at scale! Please note, the custom search feature outlined below is only available to licensed users. Here is a quick guide to show how this can be done:
Step 1 – List Your URLs
Get the full list of URLs you want to check in a single txt or CSV file. Make sure you use the full URL (including http:// or https://) of the page that should contain the backlink to your site. Save this list as a .txt or .csv, or have it copied ready to be pasted.
Step 2 – Configure The Custom Source Code Filter
Open up the SEO Spider and navigate to 'Configuration > Custom > Search' via the top level navigation.
In the custom filter configuration window, you have several options available and I'm sure you'll figure out what works best for you, however, my preference would be to select 'Does Not Contain' in the filter 1 dropdown, then enter your website URL in the text input field.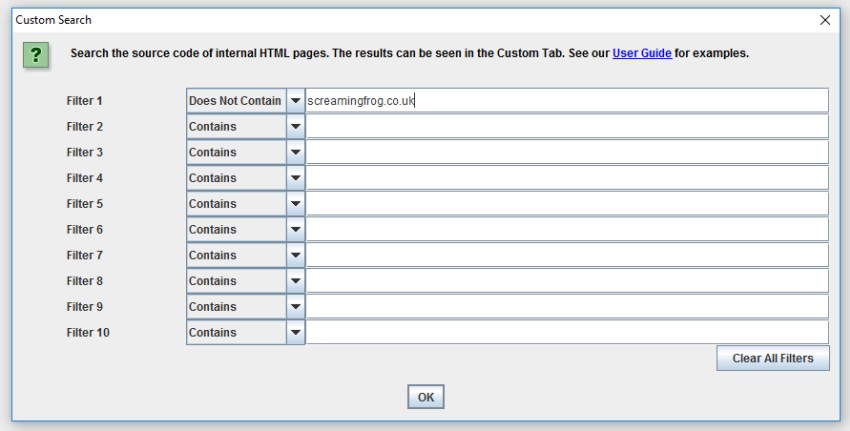 Please see our user guide for more information about the custom source code search feature.
Step 3 – Upload The URL List
On the top toolbar, click 'mode' and select 'list'. Next, click 'from a file' and browse to where you saved your txt or csv of URLs in Step 1 or just paste in the URLs you have copied.
The file reader will tell you how many URLs it found in the file you uploaded. If it was "0", go back and take another look at the list of URLs and check they are all formatted OK.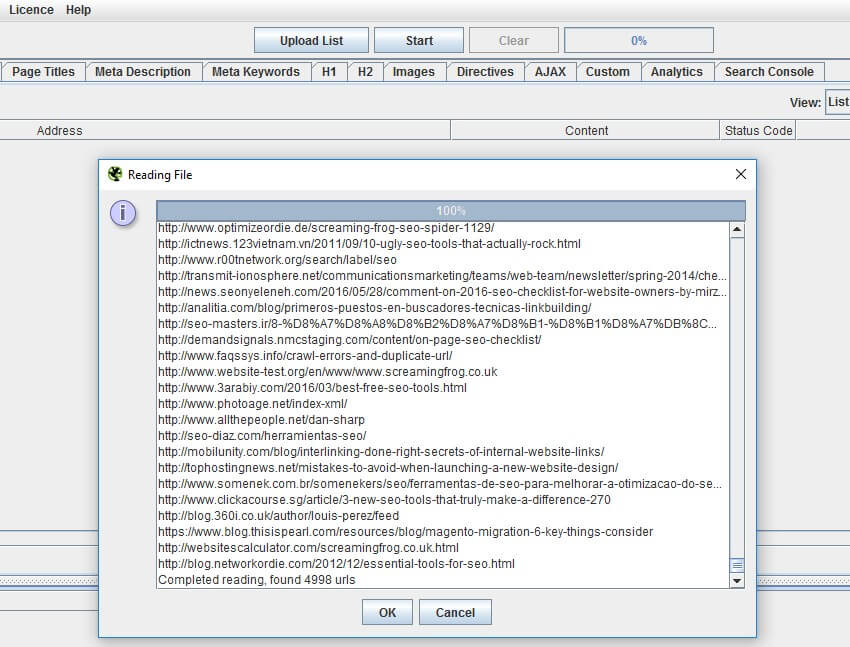 Once you've clicked 'OK', the SEO Spider will automatically start crawling the uploaded list of URLs.
Check out our user guide for more information on 'list mode'.
Step 4 – Prepare & Crawl
Click the 'Custom' tab. Select your chosen filter from the filter drop-down on the left, and view the data in real-time!
Step 5 – Review
In the example I set out above, hopefully, the output will be blank which means that all the backlink locations do contain my site link, however, if some are listed, such as in my example below, you can chase up why your link is no longer present. It looks like we don't have a link from the Moz homepage!


I hope this is useful. Now it's your turn, what different ways do you use the SEO Spider?