Measuring SEO
An effective and sustainable SEO campaign is often a lengthy process, and rarely a smooth ride to success.
Websites will naturally experience peaks and troughs on the way up. So, a robust measuring and reporting process is essential in accurately monitoring performance.
SEO's are lucky enough to have access to a wealth of actionable data at their fingertips often for free – that can be communicated to stakeholders and used to inform future campaign decisions.
In this guide, we'll explore why you should be measuring SEO, which metrics to prioritise, useful reporting tools and more.
---
Why Measure SEO Success?
To determine the level of success a campaign has achieved, you must be able to measure progress. This allows you to demonstrate the value of SEO to your client or stakeholders, which is much easier to do when backed up by data.
However, as well as demonstrating value, continuous measurement of SEO activity also provides the actionable insights that can be used to improve and refine your campaign going forward.
Depending on current performance, you can make informed decisions around what is working well, where your priorities should lie and any areas you should switch your focus to in the future.
Regular reporting should be a staple of every SEO campaign, big or small, with data being collected from the outset. Time should be spent each month reviewing established KPIs and using learnings to tweak and improve the strategy.
---
What is the End Goal?
While there is always plenty of data to report on, it can be hard to work out exactly what data you should be using. When determining KPIs, it's best to focus on the ultimate end goal. Is it to sell more products? Generate more leads?
Find out what the most important areas of the business are and what products or service lines are the most profitable.
With this in mind, you can establish a main goal for the campaign, as well as smaller targets that contribute to the former.
It's important to remember, especially if you work in-house, that different areas of the business often have their own end goals and priorities in mind. So, a holistic approach is required to make sure KPIs line up with everyone's needs and expectations.
---
Key Metrics
There are several metrics that apply to virtually all SEO campaigns, regardless of the business industry or website. These metrics should be tracked regularly and can be pulled into a handy visual dashboard, making it easier for those with SEO knowledge to understand.
Below are some useful key metrics that prove relevant to most campaigns.
Organic Conversions & Revenue
The impact of SEO on your bottom line is one of the most important things to consider – and often the only thing stakeholders or clients really care about.
The goal of an SEO campaign is usually to sell more products and generate more revenue through search engines. However, what these 'conversions' refer to will differ across websites and industries. It may be as simple as a product purchase, or as granular as a specific 'scroll depth' a user has reached on a page.
Common conversions include:
Sales – if your website sells products, either physical or digital, this is one of the most obvious but important conversions to track.
Form Submissions – if your business is more lead-focussed, or if your product is a larger, more costly purchase, tracking contact form conversions can help with attribution further down the line.
Newsletter or E-Mail Sign-ups – if you're looking to grow a blog or content area on your site, understanding which channels subscribers are coming from is useful for informing your content and strategy in the future.
Creating an Account – this can also include forms to access free trials and demos.
Downloading an App
Sharing Content on Social Media – this is useful to track along side other user engagement metrics highlighted later on in this guide.
Aside from direct sales through organic traffic, different monetary values can also be assigned to each of these conversions to help attribute the positive impact of SEO to your business.
When considering what to track as a conversion, think about which content and touchpoints are important to your business and play a role in the goals of the campaign.
These days, especially for considered purchases, a user may have a multi-touchpoint buying journey. For example, if someone is looking to purchase a new TV, they'll often read reviews and explore prices across different websites before making the purchase. This can make it difficult to attribute conversions directly to SEO, but proper tracking and data collection can help you pinpoint 'assisted' conversions and the value that organic channels can provide.
Organic Search Traffic

Organic search traffic is one of the most important metrics to consider in any SEO campaign. Organic traffic refers to the visitors who have found your website through a search engine, as opposed to a paid advertisement, through another site or via social media.
When users search for a product, service or question and find your site naturally, they often have high intent, so are more likely to become a new customer or lead.
Organic traffic can be split 'brand' and 'non-brand'. If a user searches for your specific brand name or a variation of it – either on its own or with an associated product or service, you will likely appear first for this search in the rankings.
Users who discover your site through non-branded search terms have most likely not been exposed to your brand before and are potential new customers or leads. As such, non-branded organic traffic is often one of the most important metrics to measure and improve as part of an SEO campaign.
While acquiring organic traffic is a long-term process, the traffic is essentially "free" – compared with other options, like Google Ads, which can produce instantaneous results but require significant and prolonged investment.
Increasing organic traffic often requires investment too, but it is possible to reach a point at which a website consistently ranks well and marketing budget can be reduced or invested elsewhere.
Keyword Rankings
The amount of organic traffic a website receives is ultimately determined by how visible it is within the search engines.
'Keyword ranking' refers to where a website appears for a specific search term (e.g. children's trainers), and the closer to the top of the results (i.e. 1st place), the better. This is because the majority of clicks on a search result page go to the top three positions, with this number dropping drastically the further you go down the page.
Users also rarely visit the second page of the search results and are instead more likely to try a different search term altogether if they can't find a result that meets their needs on the first page.
Determining and tracking keywords is an important part of any SEO campaign. However, like any metric, it should be used alongside others to give a broader overview of progress.
Once a list of prioritised terms has been established through keyword research, with consideration given to relevancy and search volume, these terms should be tracked throughout the campaign. This helps SEOs understand where they need to focus their efforts and which search terms are having the biggest impact for their brand or client.
There are tools available that automatically track your keywords for you, as well as allowing you to group them (e.g. by brand and non-brand) and more. While each website is different, tracking keyword rankings weekly and reporting on monthly trends and movements is a common way of measuring the progress of an SEO campaign.
Search results can be volatile. So, tracking keywords on a more granular level than this often results in greater but less actionable data.
Popular keyword ranking tools are explored later in this guide.
Organic Conversion Rate
Organic conversion rate refers to the percentage of users arriving from organic search traffic that convert on the site. For example, if 10 visitors out of 1,000 resulted in a conversion, whether that's buying a product or using the contact form, this would be a conversion rate of 1%.
Organic conversion rate is an important metric for measuring the success of your SEO campaign and the value it's providing. It can also be used alongside other metrics to identify any issues or underperforming areas on your website. If your website has a low organic conversion rate, it could suggest some issues, including:
Poor user experience – users may be finding your website confusing or frustrating to use, or perhaps it loads slowly. Looking at other metrics, like PageSpeed, alongside conversion rate can often help solve issues.
Irrelevant/low intent keywords – high volume 'vanity' terms may drive traffic when you rank well for them, but users will soon find they aren't relevant to your business or have low intent behind them and will be much less likely to convert.
Uncompetitive offering – if your products or services are more expensive than competitors, or your value propositions aren't strong enough, your visitors may be converting elsewhere.
Visibility


SEO visibility is a metric offered by many tools that looks at the overall performance of a website on search engines and how likely users are to find it.
Monitoring keyword rankings, their volume and the traffic they drive can become very challenging at scale, especially over long periods, whereas SEO visibility is an effective way of highlighting progress on a broader scale.
The visibility of a website will differ depending on the tool you use, but most tools look at the keywords the website ranks for, their volume, click-through rate and more, to calculate a visibility score. This score is then tracked over time, with most tools using historical data that spans several years.
Analysing the historic and ongoing visibility of a website is beneficial for several reasons:
Performance – tracking the historic visibility of a domain is useful in gauging its performance over the years, especially when it comes to diagnosing potential issues. Many tools allow you to cross-reference the visibility of a domain with the dates of Google algorithm updates, making it easier to attribute where these may have caused large drops in visibility.
Competitor Analysis – while most brands and website owners have a good understanding of who their perceived competitors are, every website has a different set of goals, objectives and keywords that are important to them. Benchmarking your overall SEO visibility against those performing well for your key search terms is an effective way to make sense of the competitive landscape.
Opportunity – similarly, looking at the industry on a broad scale can help with understanding the opportunities there are for a business. For example, if you have a client that has a relatively young website, you can gain an idea of potential growth by analysing leading competitors within their vertical. This can also help in identifying how to reach that level of growth by looking at what is working well for other websites.
Specific tools for monitoring SEO visibility are explored later in this guide.
Backlinks
While Google uses over 200 ranking factors in their algorithm, backlinks (links to one site from another) have remained one of the most important over the years. Previously, there was a greater emphasis on the quantity of backlinks pointing to a domain, but these days it's more important to focus on the quality and relevancy of backlinks.
Links to a website are essentially seen as a 'vote of confidence', and while getting other sites to link to yours may sound relatively simple, naturally building these links (i.e., without paying for them) is a difficult and time-consuming process. Website owners have recently become much more cautious about who they link out to, so a sustainable and long-term linkbuilding campaign is often required to remain competitive in the search results.
The quality and volume of backlinks to a site are important metrics to monitor because we see such a high correlation between a strong backlink profile and the organic performance of a website. Measuring a domain's backlinks over time will help you gauge the success of linkbuilding activity, and the impact it is likely having on other key metrics like rankings and organic traffic.
There are several tools available for analysing the backlinks of a domain and its growth, which we'll explore later in this guide.
Click-Through Rate
Click-through rate, or more specifically, organic click-through rate, is the percentage of people who clicked on your website after seeing it in the search results. It's calculated as the number of users who clicked on your website, divided by how many users had the opportunity to do so.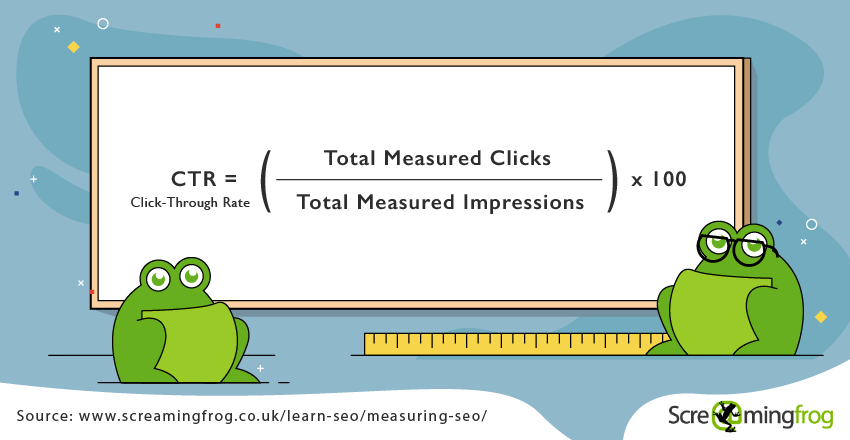 Measuring the organic click-through rate is useful as it provides insight into how attractive your listing is. If you rank well for a term but have a low organic click-through rate, it suggests that there may be issues with your page title or meta description, or perhaps they simply aren't matching the search intent of the user.
The click-through rate for key terms should be regularly monitored to identify poorly performing pages and opportunities for improvement. It's also important to remember that click-through rate can be a volatile metric due to the growing number of features search engines are adding to their results pages. For example, if you notice a sharp increase in click-through rate, this may be because you've secured a featured snippet for a particular search term.
You'll also want to keep a close eye on your click-through rate when rolling out changes to page titles and meta descriptions, to monitor their performance and see if you need to make any further tweaks.
Google Search Console (GSC) is one of the simplest tools for monitoring your website's click-through rate. We'll take a further look at GSC later in this guide.
PageSpeed/Core Web Vitals
Google first notified us that they use page speed as a ranking factor back in 2010, and have been turning the dial up on its importance ever since – eventually leading to the introduction of their 'Core Web Vitals' metrics.
Core Web Vitals (CWV) are based on real-world data and help to measure key aspects of a website's performance from a user experience perspective.
These metrics are:
Largest Contentful Paint (LCP): which measures loading performance. To provide a positive user experience, LCP should occur within 2.5 seconds of when the page first starts loading.
First Input Delay (FID): which measures page interactivity. To provide a positive user experience, pages should have an FID of less than 100 milliseconds.
Cumulative Layout Shift (CLS): which measures visual stability – for example, whether or not content on the pages moves around as it loads. To provide a positive user experience, pages should maintain a CLS of less than 0.1
Essentially, Google wants to make sure that the websites they suggest to users offer the most positive in terms of speed, responsiveness, usability and more.
These aspects of a website should be regularly monitored, so any issues are spotted and addressed at the first opportunity. If any large changes are being made to a site, consider how they may impact CWV and monitor these metrics to ensure there is no detrimental effect on performance.
There are several tools that can help you benchmark your site's performance, which we'll highlight later in this guide.
---
Engagement Metrics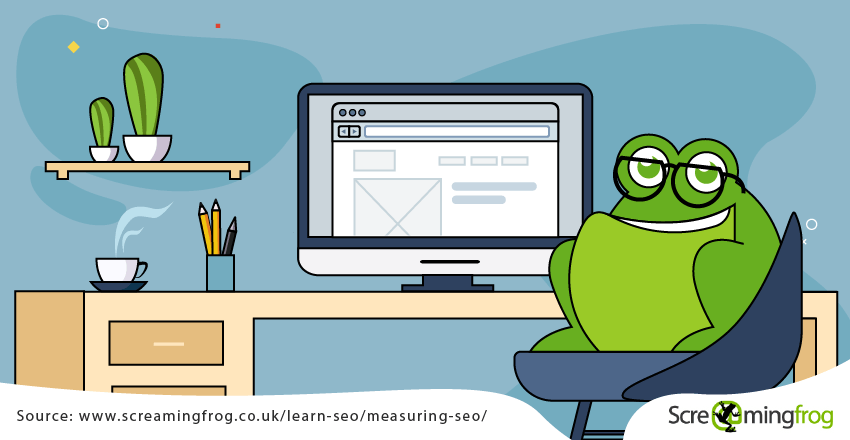 Like Core Web Vitals, engagement metrics help you gain a sense of how users are behaving when they're on your site. Getting users to visit the site is half the battle, and if your content or experience isn't aligned with the user's intent and expectations, they'll likely bounce back to the search results.
There are several user engagement metrics that can be tracked, but they may not all be relevant to your website. Below are some of the most common metrics to consider when measuring SEO.
Bounce Rate
A website's bounce rate is the number of people that visit but exit after only viewing one page. It's, presented as a percentage of the website's total users. Bounce rate is one of the best indicators of the overall quality of your content, and there are several reasons why people may bounce:
Intent – if your page is not matching a user's intent, it won't deliver the results they are looking for, whether that's the answer to a question, the product they are looking to buy and more. If this is the case, it's likely that your page wont rank as well for the keywords in question.
Efficiency – on the contrary, it could be that your content is high quality and offer users exactly what they are looking for without the need to dig through other pages on your site. If you feel this may be the case, it can be useful to look at other metrics alongside bounce rates, such as time on page and conversions.
Performance – modern users are impatient when it comes to the web. If your page doesn't load quickly and work well across a range of devices, it's likely a user will bounce back and choose a different search result.
Misleading Meta Data – if your page title and meta description don't reflect your actual page content, users are likely to be frustrated and disappointed, once again bouncing back to choose a different result.
Bounce rates vary wildly across websites, with anywhere between 40-70% being considered as average. If you have an unusually low bounce rate, for example, less than 25%, this often suggests there is a technical or tracking issue on the site.
Time Spent on Page
As the name suggests, time spent on page records how long users are spending consuming your content on average. If your content matches user intent and offers a positive experience, they'll likely stay on the page for longer.
Time spent on page can also vary wildly depending on the theme of the content and its vertical. For example, if a contact page has a low average time on page, this isn't necessarily a cause for concern. However if people are only spending 10 seconds on your 2,000-word article, you may want to do some digging.
Pages per Session
If the purpose of your content is to engage users and encourage them to further explore your site, you'll want to pay close attention to how many pages they are consuming on average. As with bounce rates, if your content is satisfying a user's needs, a low number here isn't necessarily a bad thing.
However, if you are trying to engage users with your content and experiencing lower than average pages per session, you may want to consider adding clearer CTAs as well as better signposting to other relevant content areas on your site.
New vs Returning Visitors
Attracting visitors to your website is tough but encouraging them to come back at a later date is even tougher. The New vs Returning visitors metrics is useful for working out if your audience is growing with first-time visitors, and if your content is successful in engaging users to return.
If the number of new visitors to your site is stagnant over time or even decreasing, it's usually a sign your marketing efforts need reviewing.
However, when measuring this metric, make sure to segregate new vs returning visitors by channel, such as organic and referral, as this can impact their behaviour. For example, returning visitors coming from a newsletter are more likely to be engaged with the brand and industry and therefore more likely to convert.
---
Tools for Measuring & Reporting
SEOs are spoiled for choice when it comes to tools for measuring website performance metrics, and many are available without spending a penny. Below are some of the most popular industry tools, both free and paid.
Google Analytics
Search Console
Google Data Studio
Ahrefs.com
Price: Packages starting at $99p/m
SISTRIX
Price: Packages starting at €100
AWR Cloud
Price: Packages starting at $49p/m
---
How Long Does It Take To See Results?
"How long will it take to see the impact of SEO?" is a question you will inevitably be asked by clients. And unfortunately, it doesn't have a clear-cut answer. On paper, it's a reasonable question – companies often invest heavily in SEO and want to know when they can expect a positive impact.
However, SEO is notoriously difficult to attribute. And every website, industry, and approach yields wildly different results.
As a general rule, you should start to see an impact from a considered and targeted SEO campaign anywhere between 4 to 12 months in. The word 'impact' is subjective, as each campaign can and should have a different set of goals and KPIs, but metrics like organic traffic, leads and conversions should show movement after this period.
Factors that can impact timelines include but are not limited to:
Competitiveness of the industry
History of the website/domain
Resources allocated toward the campaign
Quality of output (content, links etc.)
Unless you have in-depth knowledge of a website's industry based on similar historical SEO work, it's best to be honest and realistic about timelines. By offering concrete dates and guarantees, you risk setting unrealistic and unachievable client expectations.
---
Questions to Ask Clients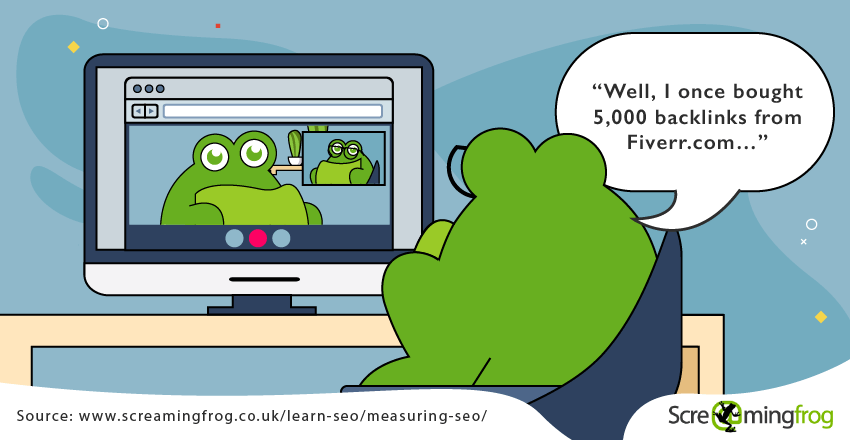 When kicking off an SEO campaign, it's important to get as much insight into the website as possible. Without a firm understanding of the clients' goals and expectations, you may not be focusing on the areas that mean the most to them.
Below are some common questions that are worth asking whenever you begin work on a new SEO campaign:
What are you looking to achieve from the SEO campaign?

Useful for finding out which areas of the business generate the most revenue, and where the focus should be.

What keywords would you like to see your website ranking for?

Clients will have terms in mind, but these are often generic 'vanity terms', so be sure to also perform your own keyword research.

What areas (geographically) are important to you?
Who do you perceive to be your major competitors both online and offline?

Be sure to carry out your own research to supplement this list with websites that compete in the search results.

What publications would you like to receive coverage from?

Identifying industry publications and where their target audience consume content is useful for offsite SEO campaigns and potentially building relevant backlinks.

What does your ideal target audience look like?

This knowledge is useful from both an onsite content and offsite targeting perspective.

Have you ever done SEO work in the past?

This can help identify existing challenges and what worked well previously, as well as flag any potentially detrimental work (e.g. low-quality link building).
---
Final Thoughts
Attributing the impact of SEO on a website can be tricky. But with a wealth of tools and data at your disposal, it's easy to get a robust and sustainable measurement process in place. Be sure to regularly report on key metrics to illustrate the value of your work over time and communicate this to your clients or stakeholders.